We want to inform you about these criteria. In 2022, we also further developed our ESG strategy and made selective business changes. Our strategy is based on a comprehensive materiality analysis in which we identified the most important issues from a corporate and stakeholder perspective. In the past year, further concrete ESG measures were defined in strategy workshops in the Executive Board and with specialist departments, which we have firmly anchored in our transformation program CP 2025. For example, we want to record our own resource consumption even more precisely and reduce it in the long term, and further increase our transparency in the area of compliance. This year's report is also based on important frameworks such as the Global Reporting Initiative (GRI) and the Sustainable Development Goals (SDG).

---
Invest sustainably. Achieve more.
Here you will find detailed information on our ESG projects and goals. Because the world is changing and we want to play an active role in shaping this change - not just be part of it, but lead the way and achieve more!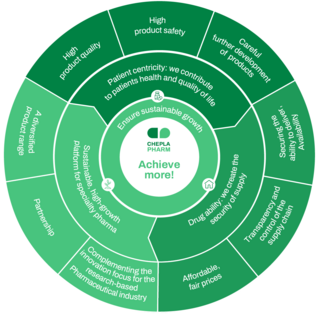 Our sustainability strategy
The focus of sustainable corporate governance at CHEPLAPHARM is on compliance systems, adequate supervisory structures and the prevention of corruption. Against this background, we are continuously working on expanding our supervisory and reporting structures in order to maintain and further strengthen the public's trust in our company. We also express this through our policies.
In addition, we want to ensure sustainable action at the management level, which is why 9% of the short-term incentives (STI) of our Executive Board have been contractually linked to specific sustainability targets for the first time.
We determined our focus topics through a comprehensive materiality analysis. 24 topics have proven to be particularly relevant fields of action: products, supply chain and environment.
Products
Our diversified product portfolio includes long-established brand and niche products. We are present with our products in 145 countries worldwide. Our geographical diversification not only reduces our dependence on individual markets and thus also sales risks, but also gives people in many regions access to medicines, some of which are indispensable. About one third of our medicines are on the World Health Organisation's Model List of Essential Medicines, which means that they are among the most urgently needed medicines for health care and are therefore indispensable globally.
The quality and safety of our products is ensured through regular safety audits and extensive training for our employees.
In addition, CHEPLAPHARM has committed to Good Distribution Practices (GDP) for the pharmaceutical industry. These describe minimum standards to ensure that the quality and integrity of medicinal products is guaranteed throughout the supply chain. For this purpose, CHEPLAPHARM has adopted so-called Standard Operating Procedures (SOP), which define the standardised procedure for the distribution of medicinal products.
Supply Chain
Our products are manufactured and distributed externally. The size of the companies in our supply chain ranges from smaller local contract service providers to large international pharmaceutical groups.
The majority of our partners are located in Europe and abroad and are therefore largely subject to European law, which places particularly high demands on the quality and sustainability of pharmaceutical products.
We have initiated a first, central part of this sustainability process by establishing a regular and, if possible, complete survey of our supply chain. With this survey, we collect information on the fulfilment of relevant sustainability standards as well as on current sustainability measures and goals.
Environment
Even though we are only at the beginning of systematically recording our ecological footprint, we want to integrate sustainability-relevant considerations much more strongly into our corporate activities in the future. We are currently establishing an environmental and energy management system that is to be certified according to ISO 14001 in 2023. In addition to the identification and control of our environmental impacts, this also provides for the measurable improvement of our environmental compatibility.
In 2021, renewable energies accounted for 65% of CHEPLAPHARM's total electricity consumption.
The main energy source for our heat supply is gas, from which we cover 90% of our needs.
Our contribution to the SDGs
Our sustainability strategy is based on the global Sustainable Development Goals (SDGs) set by the United Nations as part of the 2030 Agenda. As part of a materiality analysis, we have identified 4 goals as particularly important.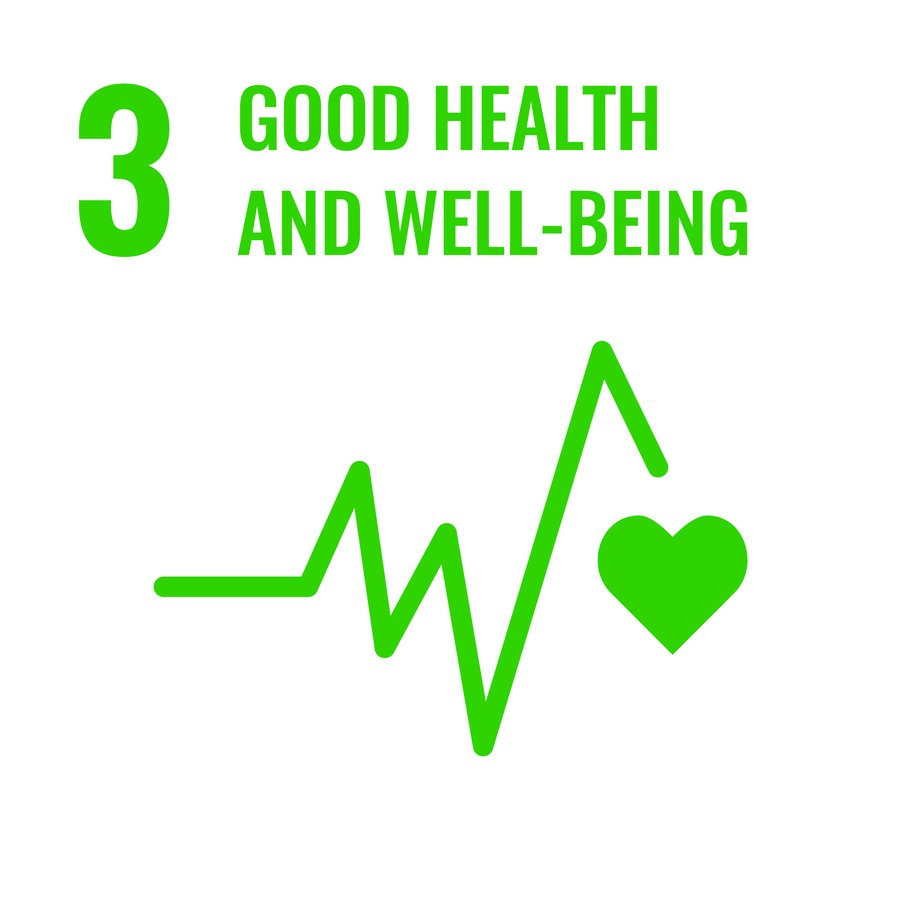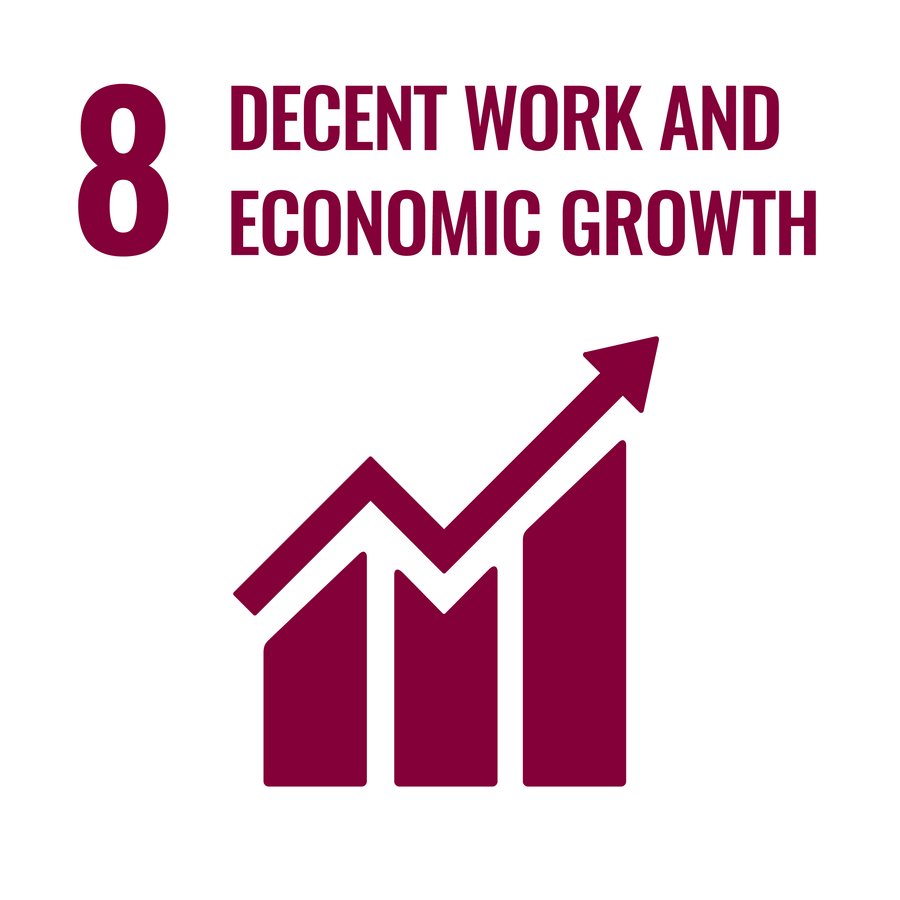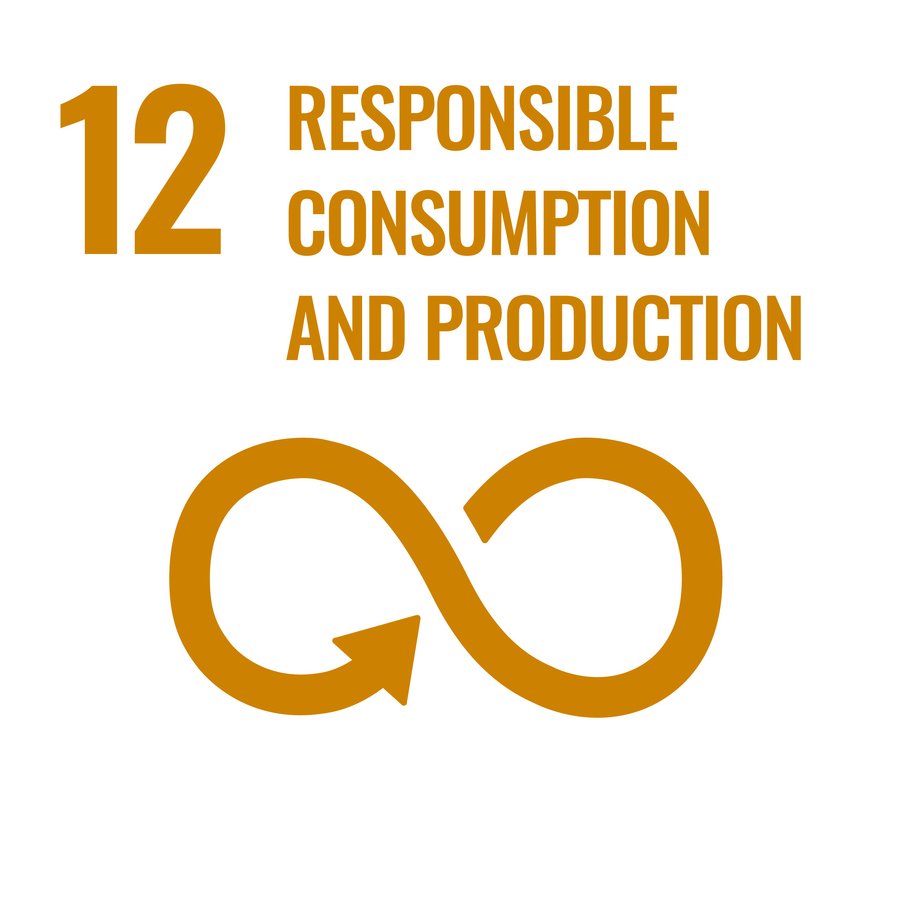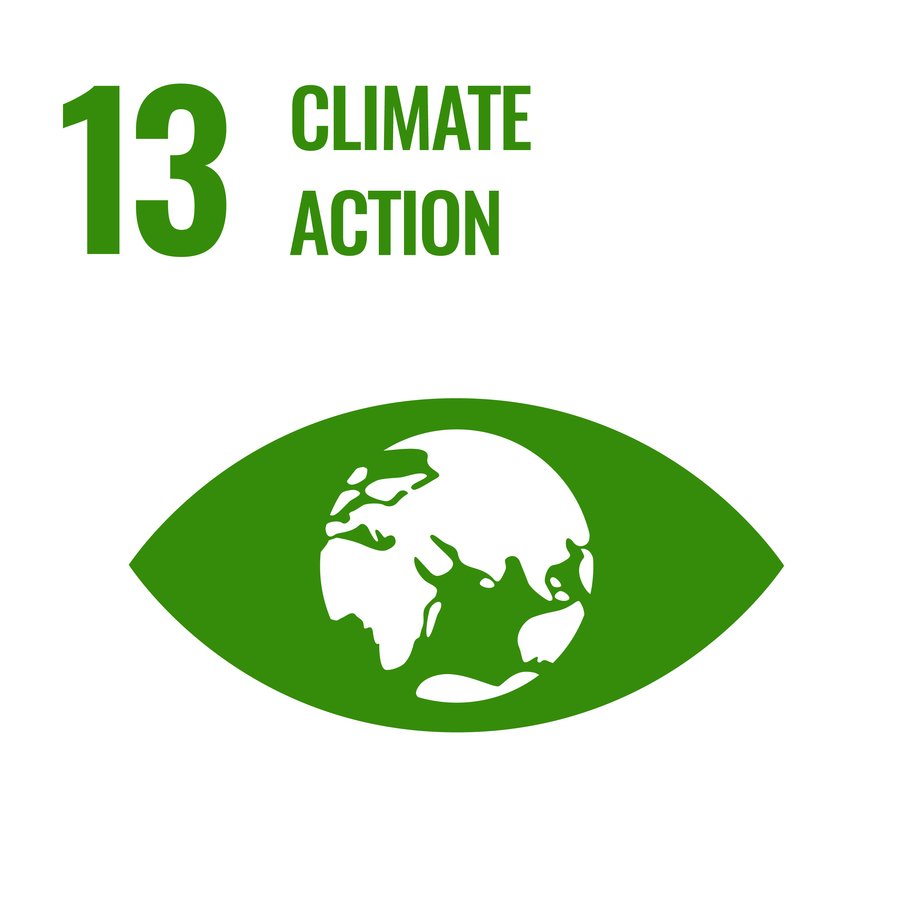 SDG 3: Good Health and well-being
CHEPLAPHARM makes an important contribution to people's health and well-being. CHEPLAPHARM's products meet the high regulatory requirements for safety and quality. Of elementary importance here is the security of supply through a significant diversification of producers, the establishment of second sources and sophisticated storage processes in order to be able to provide sufficient medicines at all times.
SDG 8: Decent work and economic growth
As a large employer in the Greifswald region, we are aware of our special responsibility for this structurally weak region. The active and targeted further training of our employees is particularly close to our hearts. Joint activities strengthen team cohesion and promote motivation and commitment.
SDG 12: Sustainable consumption and production
CHEPLAPHARM's greatest potential in achieving this goal lies in making processes along the value chain more energy and resource efficient and reducing emissions and waste in production. Our impact is aimed in particular at our supply chain, which we also continuously analyse for sustainability aspects.
SDG 13: Climate action
Climate protection requires a continuous and long-term approach. We can make a particularly large contribution to climate protection via our supply chain by incorporating climate protection into all processes and obliging our supplier companies to comply with minimum requirements relevant to climate protection. At our site in Greifswald, we actively contribute to climate protection with our own photovoltaic system, charging stations for e-cars that can be used free of charge, and the construction of a new low-energy building.
---
ESG is an essential strategic component for CHEPLAPHARM. Feel free to contact us if you have any questions.
Contact
ESG Responsibilities at CHEPLAPHARM.
For any questions on ESG please contact: